Folded Space had a relatively small stand at Essen Spiel 2017. We were in Hall 7 stand 7D-101. The stand was 8 sqm, 4m by 2m (for details of how we made our stand please check the other blog post on this subject).
Largely by chance this turned out to be very well positioned. The stands in front of us were square and very open, so we had good visibility to the stand from all sides. As we were on a crossroads corner stand they was a good line of site to our logo along three main corridors. We were also next to one of the Halls access doors for setup, which was used during the event by people heading outside. This meant we had a constant flow of fresh air, which is an issue with other areas of the hall.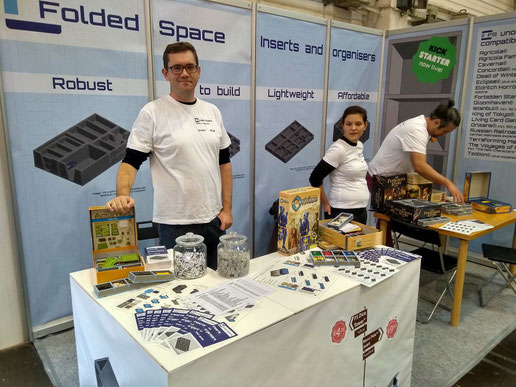 We were five people running the stand. I had thought prior to the event that three would be sufficient and figured two of us at any one time would be circulating the halls, as visitors, to enjoy the Spiel. While this was indeed the case for part of Friday and Sunday, for much of Thursday and Saturday we were all five working on the stand at once. From my  experience of Essen Spiel before these are the two busiest days. On Thursday many people come to shop and collect stuff they have pre-ordered, after which they explore the stands pulling after them suitcases and trolleys stacked high. These kind of "hardcore" gamers are Folded Space's core market, so we were very busy this day as they were very interested in the products. Saturday is busy because local people are not at work and come to the Spiel.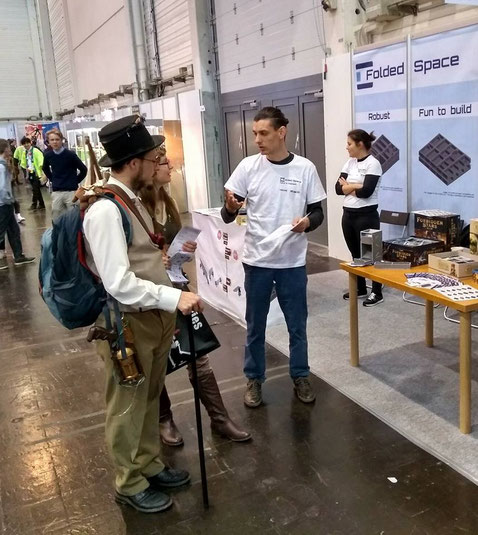 Manning the stand is an exhausting experience. You have to be there before the visitors, so arrive at say 9:30. And then you need to stay until after the event closes for the day, say at 19:30. We did'nt even have issues of stock to handle, as the stand was more to present the new concept of the product, but even so it was hard work. Comfortable shoes, taking breaks when you can and popping outside from time to time are all essential. 
Despite the effort involved it is very rewarding. The atmosphere at Spiel is great, very positive and there is a kind of community to it where everyone feels a part of something. This combined with the fact that we were demo-ing a great product that we all believed in, and was very well received by the visitors, made it also a fun experience. We spoke to so many great people, had so much good feedback, i will remember it warmly for a long time to come. 
As well as meeting many customers and potential customers, we also met a lot of distributors, third party support companies and actual games developers. This was not the main focus of our attendance at the Spiel as the plan was more to get the word out about a new product and a new approach. However, we have a long list of new contacts, and a stack of business cards for future business opportunities. I think if this was more the focus of your attending the Spiel then some significant ground work would need to be done in advance to maximise the number of companies you can contact, as everyone is super busy.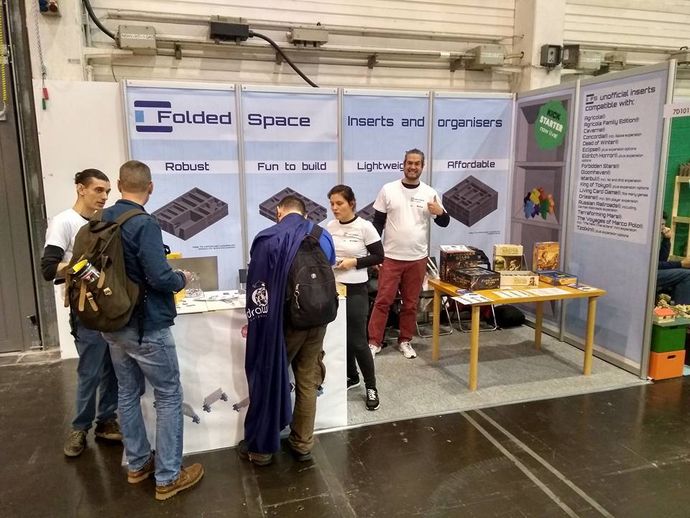 Things i think we did well;
The stand looked great, and for a relatively small investment. The printed back panels, the front desk, and even the carpet all made a big difference in making our stand stand out and look professional.
We had enough people to man the stand at all times. 
Demonstration inserts were essential, as was handing people sheets of our material so they could play with and test its suitability.
Promo dice and badges were very well received by all.
Things we could have done better;
Planning - things were very hectic in the weeks up to the Spiel. We should have had things in hand much earlier.
More demo pieces - the most hyped games of the Spiel were Gloomhaven and Terraforming Mars. It would have made a huge difference to the presentation if we had had inserts for them at the stand for people to see and handle.
It would have been better to have had a large price badge up on the stand wall, and some more prominent indication of our live Kickstarter campaign. The Kickstarter badge was in the corner, and we had to point to it often.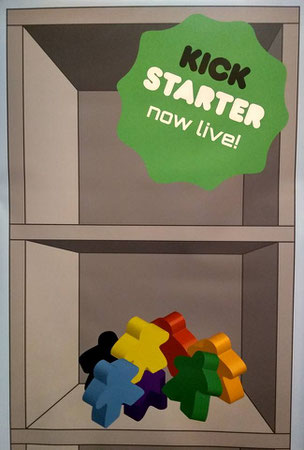 I need to send out a massive thanks to the Folded Space team who worked so hard to make the stand possible - Kai, Dobi, Meto and Niki were all fantastic and put in long hours. Thanks a million guys!
Our objective in attending the Essen Spiel was to raise awareness of our Kickstarter campaign and to demonstrate the inserts and material to people in person. Our campaign, which was launched two days before the event started, was fully funded on the day we returned home. We had masses of good feedback and positive responses the whole time we were there. An exhausting time consuming thing to do, but a very rewarding one! Something i recommend to any startup, particularly one with a new approach to bring to the market.